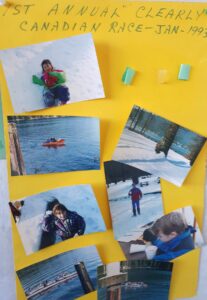 The CORA Board had an initiative for 2020 to compile an updated Canoe Registry. The pandemic of 2020 lockdowns in Spring / Summer provided an opportunity to connect online with CORA and PNWORCA and SCORA members who had a wealth of knowledge related to most of the big boats (OC4s / OC6s) throughout Canada, yet that history had never been captured in written records.
Those interviews with individuals having first-hand knowledge of the history of outrigger canoes in Canada and extensive online searches resulted in a very definitive Canoe Registry of the vast majority of big boats (OC4s / OC6s) throughout Canada as well as several documents that detailed the timeline of the travels of those canoes.
The CORA Board recognizes that these historical documents are a legacy to the founders and builders of Canadian outrigger canoeing and should be preserved for posterity. Those historical documents are to be found on the CORA Google Drive and have been published on the CORA website. It took nine months to collect and verify the details in this set of documents. The CORA Board recognizes that these documents may contain errors and omissions. If anyone in reviewing these documents has something to share, please contact CORA to have those contributions incorporated into these "living" documents.
Acknowledgements
There were many individuals who contributed material for these stories. However, a huge debt of gratitude is due to Grace Morissette (Lotus) and Jan Chavarie (Jericho) and Drew Mitchell (False Creek) and Boy Chun Fook (Kikaha O Ke Kai) for not only taking the time to sit for informal and formal interviews, answering countless questions, taking it upon themselves to do research to confirm events / times / places / individuals that are the threads of the history, and for diligently proof-reading / spell-checking / grammar-checking several drafts until the content was factually correct and politically correct.
Historical Documents
The CORA Board hopes to add to this set of historical documents with further research on outrigger canoeing on Vancouver Island, the Okanagan / Interior, and Eastern Canada.