​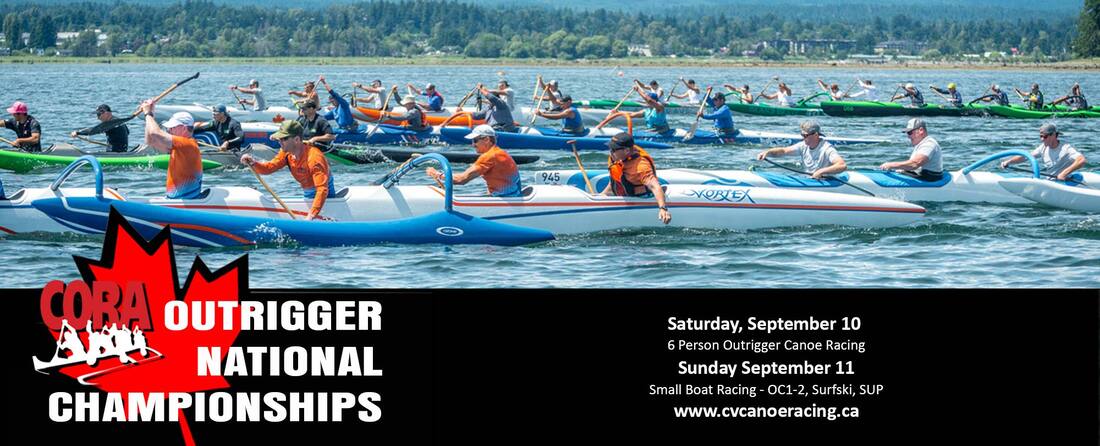 Join Comox Valley Canoe Racing Club for two days of racing for all paddle disciplines and abilities in the Comox Valley. Saturday events include OC6 races. Sunday will include the traditional small boat race – OC1-2, surfski and SUP – right off the Pier at the Comox Marina Park.
More information and registration links:
http://www.cvcanoeracing.ca/2022-nationals.html
Saturday September 10, 2022
OC6 Long and Short Course Events.
Long course will be 15km, Race fee $210
Short course will be 6-8 km, Race fee $150
9:00am Short course Race Start
11:00am Women's Race Start
1:00pm Men's Race Start
3:00pm Mixed Race Start
Note: The separate race for the Mixed allows more OC6 sharing!
Sunday September 11, 2022
Small Boats: SUP, Singles and Doubles (OC & Surfski):
Race Course TBD
Race Fees $25 per person, $50 for a double
10:30 AM – Small Boat Race Start
Entry Deadline: Online registration will close on Thursday, Sept 8, 2022 at 5:00 pm for OC6 and Friday, Sept 9, 2022 at 5:00 pm for Small Boats