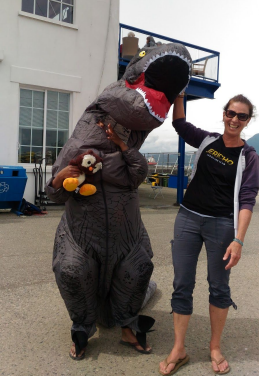 This summer interviews were held by our Volunteer Coordinator Melissa Tang with several of our Race Directors to help provide to some additional information behind the familiar faces we see on the CORA race circuit.
Interview with Jan Chavarie, Race Director, Jericho Iron
Background on Jericho Paddling Club:
Jericho was established about 30 years ago with a group of paddlers from FCRCC who wanted to form a new club, and now we have 68 full-time members. We started off with a Malia canoe, then we purchased calmars, then added two mirages, and now we have an Unlimited. We've been based out of Jericho Sailing Centre since then, and they have been a great supporter of our club.
How did you get involved in paddling?
I started off with dragon boat back in the 90's (as many paddlers did) with the Dragon Canoe Club. After a few years in voyageurs and dragonboats, we purchased an OC6 for cross-training. I discovered paddling using both sides of my body and that was it!
What do you get out of being on the water?
Being on the water allows me to take time from it all. It's a mental break, a stress reliever. It keeps me grounded.
What is the best part of race day, as a race director?
Both the start of the day and the end of the day. At the start of the day, you know that it's "What will be, will be". Not more planning, just go with it. At the end of the day – it's all over!!
What is your favourite all time event?
The Cook Islands!
Mike Jordan, a long time member who passed away earlier this month – any words?
Mike was a great person, and everyone has only had kind words to say about. He started out as a flatwater paddler in the East, and then moved here. He was a Jericho Club member for over 20 years. Unfortunately, he was diagnosed with lung cancer a year ago, and it all progressed so quickly – it has all just been very sad to us. At this year's Jericho Iron, just before the Men's race, we had a remembrance ceremony dedicated to him.
---
Interview with Vivian Thomas, Race Director, Island Iron
Tell me a bit about the race. How long have you guys been organizing this for?
I actually learnt this week that the first Island Iron was in 1996, and it was organised by ORPC. They wanted to practice paddling in rougher water, so they decided to take the race to Cadboro Bay. it is rougher water along the backsides of Discovery Channel, and Baynes Channel is always rough because that's where tides and currents meet.
Would you say this year was one of the roughest?
It was a little bit annoying because we're always going against the waves or the wind, so we didn't really catch a break until the backside of the Channel, which was more than ¾ of the race course. It was nice to have a little bit of a break, but [when] crossing Baynes Channel, the waves were ama-side, and the combination of wind and waves made it quite challenging. So my Seat 5 stayed left for an extended period of time, and my Seat 4 stayed on the huli rope for an extended period of time.
Is it always the same course?
Yes, it's around the same [course], but sometimes we'll change directions based on conditions. Safety is a very big priority with this race.
How did you get into paddling?
I started with dragon boating, and my coach, at the end of the season, said that outrigger was a good thing to try if we wanted to stay fit through the fall/winter. There were maybe 4 of us from the dragon boat team that decided to try it, and I was hooked!
How long ago was that?
I started in 2004, so I cannot believe how quickly the time goes. I no longer dragon boat. This is a bit more fun. You surf and you can catch waves… It's not as hard on your body, and it's easier to get good glide, good blend.
How did you get into steering?
I wanted to try it, and I like the challenge. And I can control the course of the boat!
How does it feel being a Race Director?
This is my first year doing it, so safety is really important. We have Julie [Kippen] who deals with all the safety issues, and she's done [this race] a few times. And of course, Cindy [Wright] has been very helpful as well with the safety aspect of the race course. We also had some people who volunteered to do the food, which is great because that's huge as well! Our biggest costs with this race are safety and food.
So once the race is over, do you get a breather after?
Yes, but gotta send in the results.
Anything else you'd like to add?
Island Iron is a great race, and one of the best in the CORA Cup circuit. It will be up when we host it again in 2020 – would like to see lots more teams! We alternate hosting Island Iron with Comox Valley.