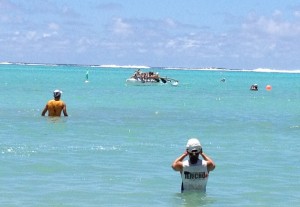 Jan – Jericho
Up at 5am for a 7am Round Rarotonga change race start. There's a bit of cloud cover but it's mostly going to be a sunny hot day.
The canoe is set up, ready to go and the gear is loaded on to the support boat. The boat was excellent; a good size, had a nice cover, great coolers and a captain that had done this race every year. He got us settled and we were off.
18 women's crews were in the race. The Australian crew – Crown Beach, was in the lead, with the Cook Islands 1 crew closely behind. We had a great start, and the first change was about 20 minutes into the race. It's so wonderful to jump off an escort boat (or canoe) and into warm tropical water. The last changes we'd done were in a practice around Passage Island. Each change into the water there was heart attack inducing! Our escort boat dropped us in perfect position each time, and timed it around the big reef breaks. He had a long towline to toss us each time, so no swimming required to get back on to the supprt boat.
Conditions changed about every 5 kms. around the island, from big waves, to tough choppy stuff, headwinds, and then a final 2 km run into the finish line on small bumps, wind behind us and blue-green glassy water below us. During the race, paddlers saw a humpback whale or two, turtles and flying fish! As you round the final buoy, it's a couple hundred meter dash to the finish line. As soon as your canoe is in site, there were four local drummers, who hit the Tahaitian drums to give us a pounding welcome in. It was fantastic. The volunteers are there to take the canoe off your hands, and then we were treated to fresh fruit and iced fresh coconut water, right out of the shell. We managed to finish 12th out of 18, but with the smiles on faces, you would have thought we'd come in first!
The men's race went off at 1pm, with about the same number of crews and very similar conditions. Teams from the same clubs won that event – Australians from Crown Belle and the Cooks Islands top men's crew. The Cook Islanders put on a much better show coming in with big smiles, same side paddling and flying the ama across the finish line. That race did have a bad note as one of the paddlers on a local team suffered a heart attack. They got him off the water, and quickly treated but he didn't survive. His crew finished the race and got a big welcome in.
All in all, an amazing day. Thursday, the mixed crews do their Round Rarotonga, Friday – it's time for sprints and wrap up parties…..