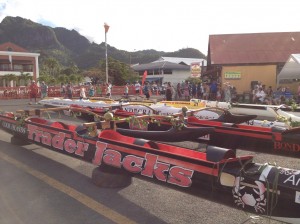 Jan – Jericho
The races begin with OC1 and V1 events. For the non-racers, it's market day and we all head down there early to stock up on fresh fruit, coffee and maybe just a few souvenirs. And yes, it is hot (29) and sunny again….
There's not many personal canoes on the island (maybe 50?) and they are in all shapes and sizes (bout 50/50 for OC1 and V1). Conditions are breezy and a bit wild. Wind is coming from the NE, not the expected direction so it means a lot of side swell for the racers. For this race, all paddlers must wear the sponsor jersey. It makes it hard to pick out paddlers when they are all wearing red!
The first race of the day is men's Masters and Senior Masters. No Canucks in this one, with Nappy Napoleon being the best known paddler to us. The race leaves the harbour, heads up the coast to Matavera, around a buoy and back – total 12 km. The Aussies take this event, Nappy finishes very respectfully mid-pack, and one canoe and paddler had to be rescued as he hit the reef and broke his (wooden) iakus. Luckily he only got got one bad scrape on the ankle.
Ladies next (open, masters, snr masters) and this is the biggest race with almost all available canoes on the water. Lilliana B. got out there to represent Canada, paddling a Paheo. This was the same course as the first race and turns out to be the most exciting one of the day. There were lots of races within races, lots of hulis as the paddlers try to make the final turn, and Lili finishes upright, not last, and with a great big smile.
The men's Open race is last and it is extended up to Muri Beach for 18km. At the last minute, Phil G. gets a canoe (Hurricane), borrows water, paddles, jersey etc. He had to do a sprint to make the start line… The locals where well represented in this race and the best show put on by the V1 racers. They had to work so hard to make the final turn and then battle the cross currents to make it to the finish line. It looked like just way too much work. One V1 racer was getting pushed in to the reef, huli'd a couple times, got back up racing, but missed the buoy turn and was DQ'd within just that last couple hundred meters. Phil lost the handle to his race paddle about half way into the race, had to wave down the escort boat to hand that one off and then finish the race with the spare…. I'll let him fill in his own details. He did seem to be ready for that beer at the finish line! Conditions were crazy all day. I heard one paddle say be was swept off his canoe about 20 times!
While all this was going on, there were junior races going on up at Muri. It would have been fun to catch those but OC1 races were behind time so we had to give that a miss.
The day wrapped up with official opening ceremonies, entertainment by a local school, day 1 medal presentations and then a paddlers dinner. My claim to fame this week? I was first in line for dinner – likely my only first place of the week:)
Sunday – no racing, and no paddling at all. It's church day here in Paradise….