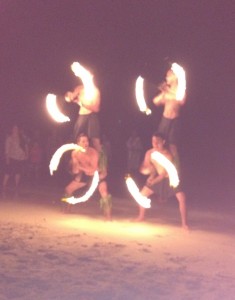 Jan – Jericho
The final day of racing was all Sprints and all fun. This was a change in the order of events from previous years, which wrapped up with the change race. In past years, there were too many paddlers tired, bruised and beaten up from the change race to really enjoy the closing party. Not this year!
Held at beautiful Muri Lagoon, the day started with a parade of paddlers, led by local traditional drummers, warriors and canoes. Then, the somewhat serious sprints began. Crews raced by club and age category and were honest – for most part. Lots of teams filled up crews with whoever they could get. The race course was a straight 500m. from the ocean side of the lagoon towards the beach. It was quickly obvious that there were a lot of steers that did not know how to race sprints – as crews crossed one or more lanes to get to the finish line – all the more fun for spectators. The more serious crews advanced to the final heats. For the rest of us – the party had an early start.
After the race finals, there were a bunch of fun events – fun to participate in and to watch: SUP relay (with and without paddles), the underwear exchange (you'll have to wait for pictures), piggyback race in the lagoon with kids, and the Fly the Ama challenge. The winning crew in that event made it look truly easy as they just popped that ama up and kept paddling for another minute or two.
The closing party began with an amazing dinner. It was all served on hand-woven plates of palm leaves and included many traditional dishes and local food. The drink was iced coconut water, fresh out of the shells. It was all beautiful to look at and delicious too. There were speeches and thanks made, then it was drinking and dancing time. While there was a deck to dance on, there wasn't room for everyone, so most of the dancing took place on the beach – under the stars, and into the water. A great wrap up to a great week. Highly recommend Vaka Eiva for any crew planning to do an international event.
We'll get some photos here as soon as we can! Or, shall I say – as soon as I stop shivering…. From 29 one day, to 2 degrees the next. Ah well – all totally worth it