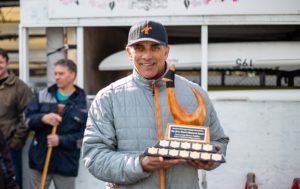 The Peter Forand Masters Challenge trophy was AWOL for 2017 and 2018 and 2019. Once the trophy was recovered, we were finally able to present it to Peter Marcus, the 2017 champion, at the 2020 FCRCC Winter Series race, and to Mignon Fontenelle, the 2018 and 2019 champion, at the 2020 Jericho Winter Series race.
2020 has been an exceptional year for the PNWORCA Winter Series. There have been a number of years where the Winter Series has lost 2 races due to weather. The 2020 CROCC race was cancelled due to icy winds. The 2020 Kai Ikaika race took a double hit with the COVID outbreak and a snowstorm in Portland that weekend. The Sand Point Championship race was cancelled for the first time.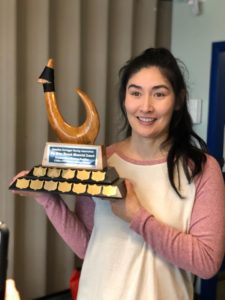 There were only 4 PNWORCA paddlers and 1 CORA paddler who participated in at least 3 races to win their boat / gender / age division. There were only 2 OC1 Masters paddlers who participated in at least 3 races.
Discussions between PNWORCA and CORA resulted in agreement that there was indeed an OC1 Masters paddler who participated in a minimum of 3 events in the same Division and was first in Points.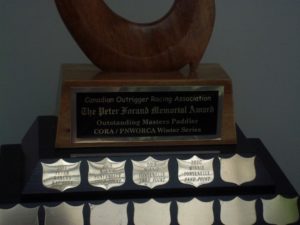 The 2020 PNWORCA Winter Series winner for the Peter Forand Masters Challenge is once again Mignon Fontenelle (Sand Point Outrigger Canoe Club) in the Women Masters 40+ OC1 Division. The 2020 PNWORCA Winter Series event organizers recognize Mignon Fontenelle for the third consecutive year as the Peter Forand Masters Challenge winner in accordance with guidelines as the Female or Male Masters (40+ / 50+ / 60+ / 70+) paddler with the highest number of points across all age / gender brackets at the end of the Winter Series.
Congratulations to Mignon Fontenelle as she continues to demonstrate commitment and excellence in Winter Series small-boat racing.
Virus permitting, we would like to present this trophy to Mignon in person at the next race that physically happens.
For more information about the Peter Forand Masters Challenge, CLICK HERE