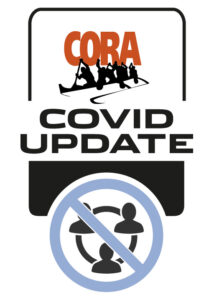 Effective December 2, 2020, for CORA member clubs in British Columbia, by Order of BC's Provincial Health Officer, restrictions are now in place suspending all adult and youth indoor and outdoor team sports until further notice. This temporary suspension is in place to limit the amount of physical interactions and travel to help reduce the spread of COVID-19. 
What does this mean for CORA clubs and CORA paddlers in BC?  Where clubs have established "cohorts" for OC6 practices, all such cohort activities are suspended pending new guidance from the Provincial Health Officer and viaSport. CORA will keep BC clubs and members updated on the status of cohort training during this temporary suspension. In the case of OC1 training, the new public health order does not restrict solo paddling at this time, provided that established COVID mitigation measures such as social distancing, use of personal protective equipment, shared equipment disinfection and contact tracing are maintained as required by Phase 2 Return-to-Sport Guidelines.
BC CORA members and member clubs are encouraged to review the PHO Order (December 2, 2020; LINK HERE) and to exercise an abundance of caution in their training during this period of restricted and suspended activities.