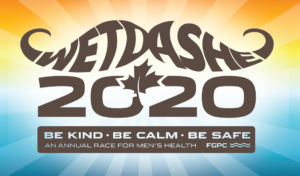 Welcome to the Wetdashe 2020 Challenge, an annual race in support of men's health. Wetdashe 2020 has been adapted this year to respond to COVID-compliance measures unique to each community, region, province and state. Hosted by Victoria's Fairway Gorge Paddling Club (FGPC), the Wetdashe Challenge is a fun end-of-season outrigger race to challenge solo and cohort paddlers of all ages and abilities.
The 2020 Wetdashe Challenge has been adapted to accommodate the health of athletes and of the general public in different regions. Instead of traditional head-to-head competition, this year's Wetdashe is COVID-compliant: solo athletes and cohort teams (OC6 & OC12) can race on home waters across western Canada and beyond, wherever public health authorities permit the sport of outrigger in conjunction with physical distancing measures in effect. Registrants, both teams and individuals, will provide their digital race results to FGPC race officials as they're logged and submitted from November 1 through 30th. Competitors' results will be averaged across four 3km loops of water available to each region (lakes, rivers and the ocean). A fastest-lap leaderboard will also be published. Any team or individual paddler can participate without the need to travel or congregate beyond the safety of their families and training partners (where cohorts are permitted). Prizes and commemorative high-vis-tech Wetdashe race shirts (size-selected in advance) will be sent to all registrants. Laps must be logged, recorded and submitted over the month of November 2020.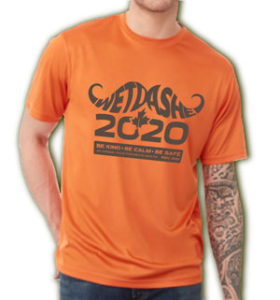 The 2020 Wetdashe Challenge offers added excitement: friends, family and communities can participate by "adding speed" to teams and individual competitors by pledging donations to the BC Cancer Foundation's Wetdashe Men's Health Fund. Money raised through supporters' pledges are directed to the BC Cancer Agency's research and clinical development of an advanced prostate cancer diagnostic, "PSMA prostate scanning technology." For every tax-deductible $10 donated through the Wetdashe Men's Health Fund, a 1-second advantage is added to the score of chosen teams and solo competitors. Please join individuals and athletes and their supporting communities across BC to "make every second count" for men's health through the work of the BC Cancer Agency.
FOR RULES OF RACING AND TO REGISTER, CLICK HERE