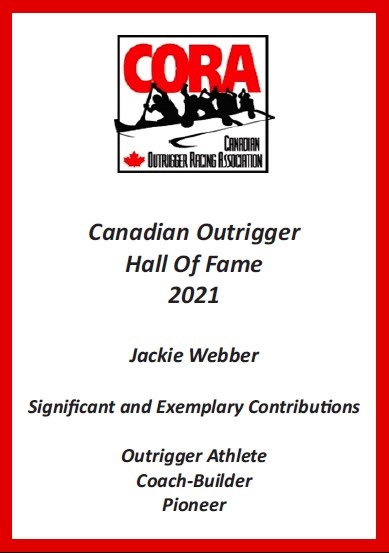 CORA recognized that there were many individuals who had made "Significant and Exemplary Contributions" to Canadian outrigger canoeing, but their stories had never been captured, and they had never been formally recognized. CORA spent January-July 2022 tracking down this history, and fact-checking as best as possible the exploits of those individuals who founded CORA, who founded / nurtured CORA clubs, who inaugurated / perpetuated races, who excelled at IVF / Molokai / Catalina / Queen Liliuokalani events, and who designed / built / imported / distributed canoes to grow the sport.
As of the August 2022 CORA Board Meeting there were 6 individuals inducted into the Canadian Outrigger Hall Of Fame for 2022.
Comox Valley Canoe Racing Club (CVCRC) has graciously offered to have an awards ceremony at the Comox CORA Cup Championship Iron event on the September 10/11 weekend to recognize these individuals.
CORA wishes to congratulate the 6 Canadian Outrigger Hall Of Fame 2022 Inductees:
Andrea Dillon
Rosemary Henry
Kamini Jain
Wendy Rae-Perkins
Don Mulhall
Grace Morissette
You can visit the CORA website and view the "virtual Hall Of Fame" that has the names / headshots of the 6 individuals inducted this year and links to a 3-page PDF that has their contributions in 2-pages and a 1-page set of references on every online article that we could find where they were mentioned.