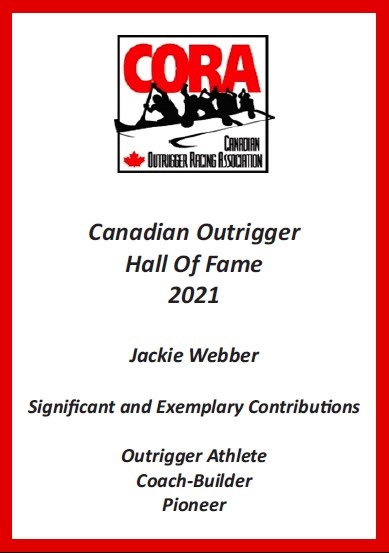 CORA recognized that there were many individuals who had made "Significant and Exemplary Contributions" to Canadian outrigger canoeing, but their stories had never been captured, and they had never been formally recognized. CORA spent January-July 2021 tracking down this history, and fact-checking as best as possible the exploits of those individuals who founded CORA, who founded CORA clubs, who inaugurated races, who excelled at IVF / Molokai / Catalina / Queen Liliuokalani events, and who designed / built / imported / distributed canoes to grow the sport.
As of the August 2021 CORA Board Meeting there were 18 individuals inducted into the Canadian Outrigger Hall Of Fame for 2021.
Comox Valley Canoe Racing Club (CVCRC) has graciously offered to have an awards ceremony at the Comox Island Iron event on the August 28/29 weekend to recognize 8 of those individuals who have called Comox home.
CORA wishes to congratulate the 18 Canadian Outrigger Hall Of Fame 2021 Inductees:
Jackie Webber
Rick Nu'u
Peter Forand
Heather Taylor
Annie Boulding
David Boulding
Don Irvine
Melanie Whittall
Cheryl Skribe
James Van Nostrand
Hugh Fisher
Sheila Kuyper
Drew Mitchell
Garry Mancell
Alan Carlsson
Bob Disbrow
Jim Mancell
Ron Kaschula
You can visit the CORA website and view the "virtual Hall Of Fame" that has the names / headshots of the 18 individuals inducted this year and links to a 3-page PDF that has their contributions in 2-pages and a 1-page set of references on every online article that we could find where they were mentioned.