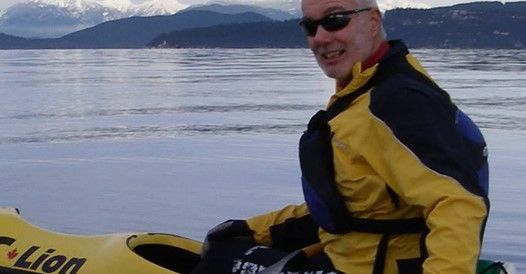 If you paddled outrigger in BC, you knew Peter Forand.
Lotus, Jericho, False Creek… Peter Forand was a BC paddler who could "walk in every camp", known to many as a man with an easy smile and a kind word for all.
Peter competed in multiple races in Canada, Washington, Oregon and Hawaii, holding memberships with Lotus Sports Club and Jericho Outrigger Canoe Club until his retirement and move to Comox BC, where Peter promptly joined the local club, paddling outrigger and later SUP in his new home
Peter made multiple successful crossings of the treacherous Kaiwi Channel in the prestigious Molokai Hoe, marking his 2003 efforts with an elaborate tattoo of a hula girl. Peter's efforts and commitment were rewarded in a podium finish with his team in the 2013 Molokai Hoe.
When he wasn't racing, Peter was always willing to help. Organizing races, timing paddlers, running the beer garden – anywhere he could interact with fellow paddlers. He also contributed greatly to the running of CORA by sitting on the board for many years. Peter held such positions as Race Director and Insurance Coordinator as well as contributing to the legacy by creating a power point presentation entitled "Crew Selection" that can be found on the resources page of the CORA website.
Even in his passing, Peter's donation of vital organs through the BC organ donor program, ensure his legacy lives on in others. CORA paddlers are encouraged to become organ donors as a gesture to Peter.
Peter leaves great legacy in Canadian Outrigger, including his two children, and two grandchildren.
A hui ho Peter – we miss you bruddah.
---
Bill Brady February 24, 2016 at 5:38 pm
I was quite shock to hear about Peter's passing. I knew him from childhood and played football with him. Peter was always considered a very good paddler. I want to extend my condolences to his family. He lived up the street from my Father's home and Dad was quite fond of him and his family.
Bill Brady
. Dad lived on Prince Edward ave Otterburn Park , PQ.Charlie Brady was my father… Bill Brady
---
jon amundson/"PEPs" February 29, 2016 at 4:47 pm
Hey! Wanted to write cause when one goes down in our crowd, we really miss them. As elders, as I said many years ago, our groove grows small and so when a tree falls it is noticed and mourned. Peter and I, along with John Roberts, Bob Stewart, and Gabe, and the others raced a few times over the years…highlights of course Molokai (check out the book on the history of the Molokai and you see a picture with Pete in it), but also when Bob hosted Nappy and Gaylord and we raced the Gorge. If memory serves me our average age was 67 and we were 8th out of 27 boats..Nappy steering and Pete shouting encouragement. Man, who deserves such cool stuff in the end years? So, we who stand in the shadow of end times, and I know I can speak for all the Kapunas plus, say "Hey Peter imua, imua, imua!!!"
Peps ( the name Bully from Kihei laid on me!)