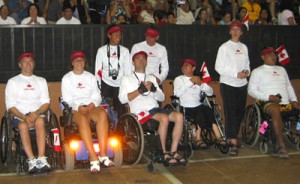 Canadian Outrigger was proud to have it's first disabled crew participate in the Hilo World Sprints in 2004.
As of August 1st, 2008, Adaptive paddling is a full medal event for all future IVF World Sprints!
The International Va'a Federation has worked hard over the last 6 years, to include adaptive paddlers as full participants. Many countries brought adaptive teams to compete at Sacramento with great results.
Curently, CORA does not of resources to run an OC6 adaptive program. Individuals are encouraged to register participate in the adaptive V1 (rudderless) event. Paddlers wanting to develop paddling skills are encouraged to do so with Canoe Kayak Canada.