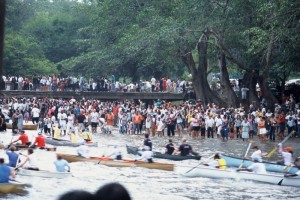 Colleen McCarthy- Jericho
Hi everyone, thanks for all your good wishes for the race. We're just on our way to catch the water taxi off Caye Calker, heading back to the river.
The last week has seen us paddling lots of different boats, doing some technical practice as well as a couple of long paddles. My favorite was the 5.5 hr day around 5 different islands. It's so beautiful here, and such a treat to be back on the ocean again. Both Sabrina and I, and I think Allie too, are so much more at home on the ocean. That said, we've had a river boat prototype we've been doing some technical work in, and are getting much more comfortable in. We feel more confident with our balance in the washy water (like that last race start) and have been working on turns and getting out and running through the shallow water. The boat we're using for this was a bit of a challenge, nothing that a big brick in the back couldn't help though, once we figured it out. It will make the Baracuda canoe feel stable by comparison.
We've also been able to do some great tours. My favorite was the star gazing tour Allie took us on. We took the power boat to a dark, quiet spot on the lee side of the island, tied her up and Allie took us though all the constellations in the sky. She was amazing, filling in the details with the Greek myths that accompanied each constellation. We also took a day tour to the Manatee reserve and have been out snorkeling on the reef. I feel like I'm on holiday!
We'll be practicing on the river tomorrow, a couple of days off and then it's the race. We'll need all the juju you can send, it's going to be a long race!
Love to all,
Colleen McCarthy and Sabrina Schwanebeck