The purpose of the Hugh Town Memorial Builder Award is to recognize volunteers who have made significant and exemplary contributions to the Outrigger Canoe Racing Discipline of Canadian Outrigger Racing Association ("CORA") within Canada in the Builder Category.
The CORA Board has approved Policy and Procedure relating to selection and awarding and administering the Award as per the Hugh Town Memorial Builder Award Policy.
The Hugh Town Memorial Builder Award is awarded after the CORA AGM. The CORA Board has reviewed nominations received for the past season and has recognized Jan Chavarie of Jericho Paddling Club as the 2022 recipient of the Hugh Town Memorial Builder Award.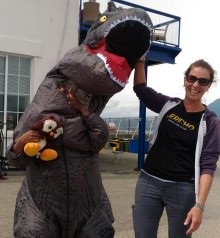 Jan Chavarie has a 20+ year legacy of selfless volunteer effort to paddlesports in general and outrigger canoe racing in particular. She has made contributions to support Canadian paddlers at the international, national, provincial, and club level. Jan and web designer / developer Colleen McCarthy collaborated to build the Jericho Paddling Club (JPC) website as well as the 1st and 2nd generations of the CORA website. She has been part of the Jericho Paddling Club that has hosted the popular PNWORCA Jericho Small-Boat Racing Winter Series event and Jericho Classic Iron, as well as volunteered to assist with the Jericho Oceanman and the JSCA Wavechaser Paddle Series for many years. She has served continuously since circa 2000 on both the Jericho Executive and the CORA Board including a 2-year stint as CORA Chairman (2005-2006).
CORA wishes to extend a round of appreciation to Bob Stewart (Mr. Aloha) for sharing personal insights as Guest Speaker on behalf of Jan Chavarie at the 2022 CORA AGM.
CORA hopes to have a Hugh Town Memorial Builder Award photo-op on February 4, 2023 at Jericho Sailing Centre as part of the 2023 PNWORCA Winter Series Event #2. Please join us for the presentation to Jan Chavarie (2022 Recipient) with the English Bay backdrop in the distance.
For more information about the Hugh Town Memorial Builder Award, CLICK HERE