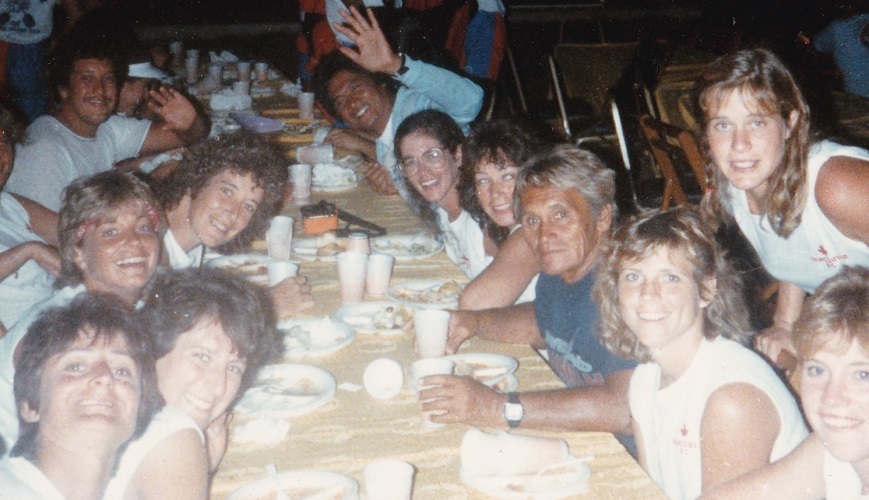 CORA Town Hall virtual sessions return in Autumn 2023. The Canadian Outrigger Hall Of Fame 2022/2023 Inductions will happen mid-November. All CORA members and friends are invited to join our regular Off-the-Water Video Forum Series. Opportunities for questions will be provided in the latter half of the 90-minute session and through the "chat" function. The presentation will be recorded and posted for those with scheduling conflicts.
However, the October 2023 CORA Town Hall virtual session (HERE) on Saturday Oct-14 at 4PM (Pacific) will feature a reunion of the all-Canadian Womens 1985 Molokai Na Wahine Crew that placed 5th overall in that race for the best ever showing by an all-Canadian Womens crew for at least 38 years.
Please join us for a roundtable of what it was like to build an outrigger racing crew in 1985 with Canadian Outrigger Hall Of Famers Ruth Matson and Annie Boulding, Canadian Olympians Sheila Taylor and Joanne Woods, and all of the stellar crew members that CORA has been able to locate including Cathy (Nixon) New, Sheila (Chadwick) Cupp, Kathy Gallagher, Gail Timmer, Janice (Henderson) Kyle, and Diane Chippindale. We are looking forward to a special guest appearance by legendary Molokai Na Wahine Board Member "Auntie" Rosie Lum Kekai, with recognition of legendary Waikiki Beach Boy Albert "Rabbit" Kekai, who coached the all-Canadian Womens crew for the 1985 Kaiwi Channel Crossing.