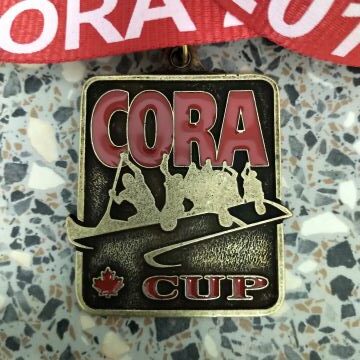 Following the Canadian National Outrigger Championships last weekend in Comox, the 2022 CORA Cup series is complete. Previous CORA Cup races were Duel in the Desert, Island Iron and Lotus Iron.
Club crews qualified in 8 divisions, all in Long Course, with crews in UL Open Women and UL Open Men battling for the title, while crews in the other 6 divisons claimed their titles through their dedication to racing.
The CORA Cup winners for 2022 are:
Long Course Spec
Open Men – FCRCC RD Tanifa Men (20 pts)
Long Course UL
Open Women – L48 Women (18 pts) [other qualifying crew: FCRCC WMO Open Women (13 pts)]
Masters 50 Women – FGPC Performance Senior Women Blue (20 pts)
Masters 60 Women – L48 60+ Women (20 pts)
Masters 40 Mixed – FGPC Performance Masters Mixed (18 pts)
Open Men – Jericho Outrigger (18 pts) [other qualifying crews: FCRCC WMO Open Men (13 pts), L48 Open Men (11 pts) & Pacifc Reach Men (7.5 pts)]
Masters 40 Men – FGPC Performance Masters Men (20 pts)
Masters 60 Men – L48 60+ Men (20 pts)
For the Club Crew CORA Cup, based on the total of all CORA Cup points earned by each CORA club in the CORA Cup series races, False Creek Racing Canoe Club squeaked out a win with 102 points, one point over Latitude 48 Paddling Club's 101 points, while Nationals host Comox Valley Canoe Racing Club accrued 67 points and Fairway Gorge Paddling Club accrued 62.5 points.
Congratulations to the winners!