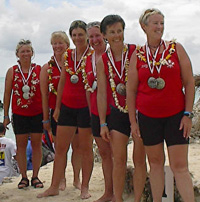 2002 – 10th Annual World Sprints in Bora Bora, Tahiti
5th overall
Rosemary Henry – Bronze in the Senior Masters V1 500m
Gold in Womens Masters V6 and Women's Senior Masters crews.
We're still looking for content here. Email us if you can help us fill in some of the blanks.
Andrea Dillon, Rosemary Henry, ……. ?