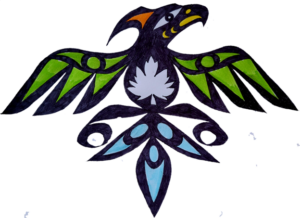 CORA's IVF Committee's uniform subcommittee introduced Team Canada's uniforms last Wednesday, June 21st, National Indigenous Peoples Day in Canada.
After many hours and careful consideration, the subcommittee took a fresh take on this year's uniform with a thoughtful approach to what racing for our Nation means within our diverse paddling community.
With the goal of a fresh look and diversity and inclusion in mind, we are honoured to introduce to you indigenous artist Brandon Gabriel. Brandon is the exceptional and creative talent behind our uniform for Samoa 2023.
While the subcommittee offered Brandon a myriad of thoughts and ideas, Brandon ran his own path and we are pleased he did. The final race package is exceptional.
I chose the story of sxwəxwa7as (I don't have the Hunqimenum font on my phone) or "Thunderbird", which is an important sto:lo cosmological figure who was present at the dawn of time. It's symbolism represents the removal of barriers which helps all living things achieve their goals. Which is also evinced in the fortitude of world class athletes. They achieve greatness, and overcome impossible odds, and inspire others to do the same. We need more people who embody this powerful spirit in the dark and foreboding times we live in.
Thank you for this opportunity.
-Brandon
Please check out Brandon's extensive art exhibition on Instagram at: https://www.instagram.com/brandongabrielart/
The subcommittee has used two iterations of Brandon's Thunderbird design for both the race jersey along with a parade shirt and casual wear. They chose the colour orange for our race jersey because of its significance to solidarity, remembrance, and healing. White was used as the backdrop for the parade shirt and grey is the colour for all casual wear. Uniforms are only available to Team Canada members.
Passion, thoughtfulness, and care were the cornerstones of this year's uniform.
As committee member A'a:liya Warbus expressed so perfectly, "It was a bit of grind but everything came through so beautifully and I know our representation of our Country and history is carefully integrated, I'm very humbled and proud. It's a strong moment."
Please tag Brandon in your social media pictures if you are showing off your uniforms throughout the event @brandongabrielart and thank him for his generous donation of time and effort! Please note that Brandon owns all rights to the design and logo so give credit to Brandon anytime you are asked about it or share it.